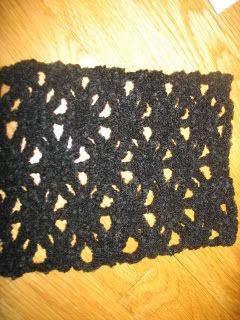 A chilly hello!
I am happy to say that the yarn for the cardi wrap came yesterday!
After it came, I sat down and started my gauge swatch, and I needed to change my hood size by 1, so instead of a I hook, I am using a H hook.
I really like how the yarn (I'm using TLC armore) makes the swatch look like it's not even crocheted. The stitch pattern is a spiderweb lace, and 1 stitch repeat = 3 rows.
I'll be able to start the actual wrap today, after I'm done picking up to mom's satisfaction =)

I'll be sure to keep everyone updated on my progress, and after my cold has come to an end, I'll be starting my first video tutorials. You can leave comments to let me know what kind of tutorials you would like to see.
Happy Crocheting!
Chelsea